IS IT TIME TO MOVE TO MEXICO & HOW TO MAKE IT HAPPEN?
Join myself and Margaret Keays (Mexican Relocation Expert) in the Replay of this 2 Day ZOOM Presentation with Q&A.
It is time you understand WHAT is really going on, WHY you may want to consider relocating outside your current country and HOW to make it happen.....in relation to setting up a PLAN B in Mexico. You don't have to move to Mexico now but having a PLAN B EXIT STRATEGY is very wise. Setting up temporary residency is a good start.
What that means is that if your country of origin starts getting too messy to tolerate, you have a safer place to go to, in order to plan your next move. That's what I did. I used to live in Canada and still maintain my Canadian citizenship but live in Mexico (plus I spend some time in the EU). As Canada continues to increase its level of abuse of the citizens there, I know I have a safer haven to plan my next move. If you do nothing, you're guaranteed to have the restrictions you are currently under and there are more to come. In short, evil is afoot. Sitting around and thinking this evil will just go away, isn't a logical or rational solution. If you create a Plan B, you will be firming up the next step for yourself, in case things go sideways. Don't be a deer in the headlights. It's important to act even if acting just means starting to collect Information and talk to experts. People who freeze or hope that evil is going to stop being evil will find themselves in some serious trouble over the next 5 years.
As I already stated, I travel frequently to the EU and I'm also trying to set up some residencies in different countries there as well. The more options you have, the better. Mexico is a great plan B temporary option, just in case where you live starts to sink faster than you can tolerate. I can tell you that setting up temporary residency in Mexico was much easier than I could have ever imagined. If I would have known just how easy, I would have done it years ago. And once you're a resident in any country, you can come and go as you please....knowing that you can always come on down to sunny Mexico in order to plan your next move if things go off the rails. If everything works out (as evil tries to enslave most of the known world) that's great....but at least you took some inexpensive action in order to secure your future and the future of your family in the interim. If things don't work out, you're confident that you're ready for whatever is thrown your way.
In this presentation I share the WHYS regarding WHY you need to start thinking about your plan B. Mexican relocation expert Margaret Keays shows you the HOWS. Both Margaret and I are subconscious behavior experts as well and that means we completely understand the fear of leaving something we're used to, for something we're not familiar with. It's time to overcome that fear of change, not in regards to moving to Mexico full time, but only in relation to getting the process started so you have options if your government tries to lock you in and inject you right off the planet.
This presentation is for people who:
- Are aware of what's going on but don't know where to start the process.
- Need extra motivation to get going with their Plan B.
- Don't know where to start the process and how to overcome their inaction based self-sabotage.
- Want to move to Mexico, but don't have the right relocation information or are overloaded with data.
- Don't know what to wrap up before they leave.
- Don't know how to support themselves financially while living in Mexico.
- Need clarity about how to set themselves up in Mexico.
- Have a hard time imagining the realities of expat life.
- Feel the need to move to Mexico but are held back by "safety concerns" propagated by the media and friends.
- Need solid guidance from someone who has already done it.
These 2 presentations include Jason's 1 hour LIVE talk (plus a Q and A) regarding WHY you need to take some action, even the smallest action, and Margaret presents sharing the HOW (plus a Q and A), along with a residency checklist, so the whole process is streamlined.
To gain access NOW to the recorded event and resources, CLICK HERE to register.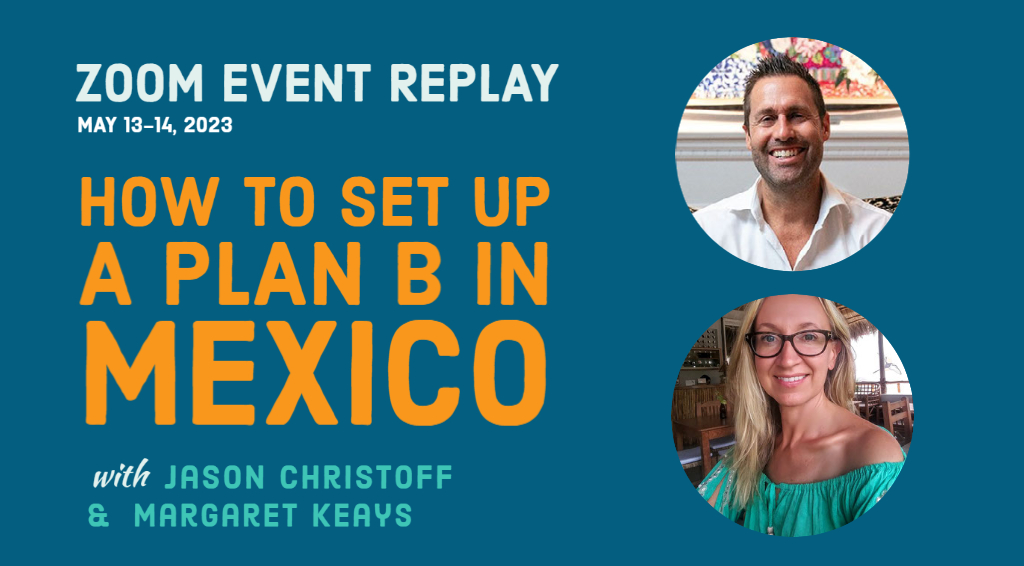 GAIN ACCESS TO JASON'S EMAIL INSIGHTS FOR FREE
Add your info below and you'll gain access to Jason's popular email insights digest packed with knowledge and research to help you live your best life.
We do not share your info. Ever.